Raising our Ebenezer Stone
"I don't do courses," Gerry* told me, when I met him in prison recently. But then he spent the next fifteen minutes telling me about his experience doing Sycamore Tree, and why he thought everyone should get the chance to do it.
This older man, seemingly set in his ways, had experienced an absolute turnaround. He'd had a revelation — he'd been invited to reflect on his life and choices, and recognised that the seeds he'd sown weren't good. Now he was desperate to change the story he had written, especially in his family: "I don't want my kids to do what I have done," he said.
In this, our 40th anniversary year, we thank God for the many lives touched and transformed by the ministry of Prison Fellowship.
During the time of the prophet Samuel, the Israelites assembled together at Mizpah to seek and worship God; the Philistines saw their opportunity and moved in to attack. In that moment the Israelites could have abandoned their worship in fear and disillusionment, but instead they press in: "Do not stop crying out to the Lord our God for us," they tell Samuel. And in that moment of complete reliance on God, He delivers them dramatically. (Find the story in 1 Samuel 7)
Most of the change we are privileged to witness in our prisons does not come so suddenly, but I believe it comes from the same source: when we chose to press in and prayerfully believe in God's power to deliver and redeem. It is the result of incremental steps, of committed followers of Christ faithfully continuing to love those that society believes are not worthy of love, continuing to believe that no one is beyond hope.
Until one day a man like Gerry takes a risk, to break his own rule of never doing courses, and explore his own deep brokenness and need.
There's a twenty-year old praise song that goes, "For all that you've done, I will thank you, for all that you're going to do; For all that you've promised and all that you are, is all that has carried me through."
We are broken people serving broken people. We come in equal need of God's grace and love, and in that place of need God has been faithful to use us for His beautiful purpose.
After God saved the Israelites at Mizpah, Samuel erected a monument, calling it Ebenezer, the stone of help, saying, "Thus far has the Lord helped us." At our 40th anniversary celebration service on 30th March this year, each PF Group will bring a stone to build a monument to God's faithfulness to us, volunteers and prisoners alike — His broken but deeply loved people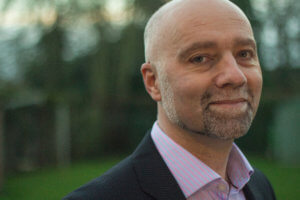 Peter Holloway is Chief Executive of Prison Fellowship England and Wales.
---
You are warmly invited to attend our 40th Anniversary Celebration at Westminster Chapel, London, on Saturday 30th March 2019, from 2pm.
*Not his real name.